So, you own a late-model panther platform car and don't understand all this MZT, BOC, MM MAF, nonsense everyone has been suggesting you? :tongue:
Just looking for some ideas for quick and easy bolt ons that work on our cars?
MZT an acronym board members have recently been using for Mercury
M
arauder (MM) airbox and mass-airflow sensor (MAF), 2004 Crown Victoria Police Interceptor/CVPI
Z
ip tube, and a PCM
T
une upgrade 'package'
For 1992.5-2004 panther owners, this package is one of the most popular and proven modifications for our cars - and our site sponsors can hook you up!
This modification is an excellent starting point to build upon with future mods. The airbox and MAF support more airflow, increasing power and actually draw COLD air from behind the headlamp whilst keeping a stock appearance under hood. The tune also increases power and enhances the car's performace by itself.
The Marauder airbox and MAF can be obtained from www.ADTR.net (ADTR) or another site vendor. It includes a new airbox with filter that is a direct swap for your current 95-04 piece, and includes a new 80mm MM MAF. The harness requires no modification, however, on -02 models you do need to drill one small hole in your new upper airbox lid to re-use your existing IAT sensor. The MM MAF has an integral IAT sensor, however, to utilize this you would need to solder in a 03-04 MAF pigtail and wire your existing IAT wires to the two outer pins. It's much easier to just drill the hole :tongue: and allows you to more easily revert back to stock.

-'94 models require the newer style 6pin MAF harness spliced in.
www.BlueOvalChips.com (BOC - also a site vendor) sells plug and play adapter harnesses as well. And also carries plug and play MAF adapters to use the MM MAF's integrated IAT rather than drilling the hole or soldering in a new pigtail yourself

Town Car owners will need to drill a hole in the bottom half of their CVPI or MM airbox with a hole saw to connect to the stock intake inlet.



The 2004 CVPI zip tube can be used on all '96-2004 panthers (excl. Marauder) when using an 80mm MAF, and is also available from www.ADTR.net This is the flexible tube between the airbox/MAF and the throttle body. This piece is optional, you can slip the stock tube over the 80mm MAF with a little work - but the 04 piece is affordable and makes it much easier. It also has a straighter airflow path.

The Tune is a customized powertrain computer/PCM reflash for your stock PCM. This is REQUIRED to use the Marauder's 80mm MAF (or any other MAF for that matter) www.BlueOvalChips.com (BOC) is one of our preferred vendors for performance reflashes and has ample experience tuning for this configuration on our cars.
The tune will not only correct the MAF transfer function, but will also further enhance the car's performance and transmission settings as requested to the tuner. I highly recommend the XCalibrator 2 reflash device, as it allows you to further customize transmission and minor engine adjustments to your preference from the tuner's base program.


'92.5-'94 cannot use a reflash tuner device, only a chip.
Early 92s and 91 Town Cars with AOD transmission cannot be tuned, which is why the cutoff point for these mods is 92.5
Here is the "MZT" installed (on my car):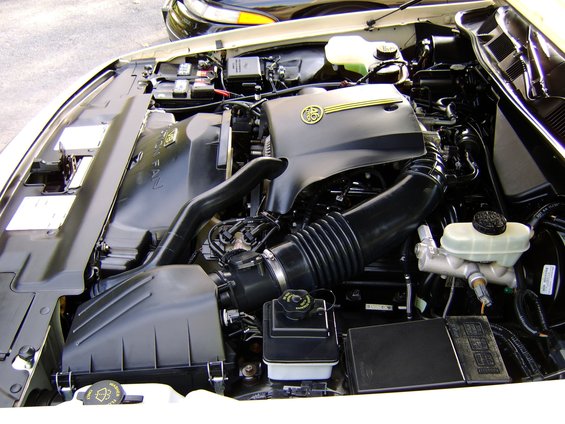 As you can see, it keeps a nice clean stock look and is a direct fit.
*Note: the 2004+ CVPI already has a Marauder-style airbox and MAF from the factory. It is recommended to keep this setup, but still go for the tune.

2005+ non-CVPI panther owners can use the Marauder MAF and airbox provided you solder in the older style 6pin MAF harness. If this is not desired, a 2004+ CVPI airbox is a direct swap with the same connector. Tuning is still required. The MM MAF does support higher airflow than the 04+ CVPI 80mm as well...

2005+ non-CVPI owners can use any 2005+ CVPI zip tube to get rid of their stock intake resonators. All 2005+ use the same MAF outlet size, so the stock tubes will also work fine with the MM or 04+ CVPI 80mm MAFs. The CVPI tube is desired because of it's lack of intake resonators which results in a little more intake noise.

2005+ panthers must use a 2005+ tube, as the '05+'s electronic throttle control eliminated the IAC and it's supply tube.
http://www.crownvic.net/drock96marquis/ziptube.htm

Some other popular entry-level bolt-on modifications which
do not
require PCM tuning are;
Dual Exhaust. This is the first step for most. HPPs, CVPIs, Towing Package, Touring Sedan, LX Sports, LSEs and Marauders all had dual exhaust from the factory. As well as all '97 TC Cartiers and Ride Control package 'Sigs. All others used single exhaust. The factory style dual exhaust is worth about 10hp+ and is a direct swap provided you get the driver's side hangers. A custom exhaust system is another option. Stock uses 2" o/d pipe, 2.25" recommended if going with a custom system. 2.5" or larger is not recommended unless you have significant engine modifications
Underdrive pulleys (Steeda or March recommended) These slow down the front end accessory drive to free up some horsepower by reducing parasitic loss. These are a direct fit for all 93+ panthers. There are two water pump styles, so make sure to buy the correct kit for your vehicle. Some have found the voltage to run a little low at stoplights when using the included alternator pulley, so many do not use it and only the crank and water pump pulleys. This can also be corrected by bumping up the idle speed with a PCM tuner/flasher. "piggy-back" style underdrives are highly unrecommended for our cars - both the Steeda and March set include a new crank pulley/harmonic balancer.

'91 (TC) / '92 models require converting the FEAD to 6 rib vs stock 7 to use these kits.






www.ADTR.net ported plenum. This intake plenum is a stock piece which is ported by ADTR to increase performance, and is a direct fit with no modification required. ADTR has these available for all 96+ panthers.

Throttle body. This is a very popular, but much debated modification. The stock throttle body is 65mm, and is adequete for most. If you decide to upgrade, a 70mm throttle body is recommended for most setups, and the 75 only for forced induction or nitrous configurations. This is a good match for those upgrading to the ADTR p&p plenum, and are available for all 92+ panthers. Some side effects are bogging at low rpms, particularly with lower gear ratios or an oversized throttle body. This modification is not as effective as others listed.

Larger throttle bodies are not available for 2005+ panthers w/ electronic throttle control at this time

PI (Performance Improved) intake. This intake is used from the factory on all 01+ CV/GM/TC. When retrofitted to 1996-2000 models, you not only solve the potential coolant crossover rupture issue with the aluminum crossover (vs your stock composite)- but you gain some power! This intake will require some other parts to use, search around the forums some for discussion and how-tos.

Use only a genuine Ford / Ford Racing PI intake manifold for this conversion
ADTR can set you up with every thing you need for the swap.





Steeper rear-end gears and/or Traction-lok limited slip differential. You can change your axle ratio up to two steps without requiring a tune*
Steeper gears will make the car feel lighter, and improve off the line acceleration. A Traction-lok (or similar) limited slip differential will improve traction by keeping both drive wheels powered, allowing you to put the power to the pavement - but without adverse driveability or NVH concerns found with some locking differentials.

The Ford Racing / Ford OEM Traction-lok is recommended for most panthers for it's smooth operation, affordable price and reliable and simplistic design. A 28 spline 8.8" differential is used for all -04 panthers (exc. TC Limos). 05+ panthers use a 31 spline 8.8" differential, however, it is highly recommended to pull the diff cover and verify before ordering. *Note* some panthers are equipped with a traction-lok from the factory, so check your axle tag and door sticker if you think you are already equipped.
There are many choices for rear gears, 3.27 or 3.55 is preferred among most for their enhanced performance and decent fuel mileage and cruising speeds. CVPIs/HPPs/LX Sports/LSEs/03+ Town Car and certain packages on -97 Town Car used 3.27s for most years and 00-01.5 HPPs/Sports/LSEs, 99-00 CVPIs and 03-04 Marauder (and 98-02 Town Car touring and -94 Town Car w/ towing) had 3.55 standard. Most opt to keep these ratios. All other panthers use a 2.73 or 3.08 (3.08 only for -02 Town Cars and -94 CV/GMQ) rear axle ratio from the factory.
Should you decide to go steeper than 3.55, other modifications may be needed. Refer to this post and the other threads linked within: !<Click>!

-02 models require a new VSS gear to correct the speedo with a different gear ratio:
*All 2003+ panthers require a tune to correct the speedometer following a ring and pinion swap regardless of what ratio is used (other than stock)
Ring and pinion and differential swaps require professional installation
Please SEARCH for additional gear and carrier swap info!
Of course, the sky is the limit - from headswaps to forced induction, even complete powertrain swaps. But this gives you an idea of a few
simple
, effective bolt-ons that are popular amongst panther owners. I will update this list with additional information as I have time. Search throughout this forum for discussion on other performance modifications and more information on those listed above!
Original Location:
http://www.crownvic.net/ubbthreads/u...71#Post1320971