Okay, guys. I haven't wanted to do my own Reader's Rides thread until my junk was running. Well... it's running. I'm still fine-tuning the minor issues and whatnot associated with converting both an engine and a transmission platform at the same time, but I finally feel like it's almost worth displaying.
I bought the wagon late in the summer of 2001. I had totalled my 4.6 1996 Thunderbird LX and my parents told me to save my own money if I wanted to have another car. So... I became a workaholic and saved every penny I could so I could buy a Mustang in time for school.
I had everything lined up for a 1988 Mustang coupe. My mom was giving me Hell about it, but what was she going to do? It was my money. The only reason I'd delayed is because I caught a doubt about the coupe. I mean... how was I supposed to transport all my luggage four hours away to my dorm? I thought and thought and thought and decided on an early 90s Toyota pick-up. That night, I had a dream about a huge ass station wagon that looked just so fucking clean it was ungodly. I postponed the coupe for another day, to decide whether I wanted to potentially regret purchasing a small car.
My mom called me that day, asking if I'd be open to something she didn't think I'd like. I rode out there, just to see, and there it was: an ice blue station wagon in damn good physical condition. I gave him $900 to hold it until I could get to the bank the next day and get the rest. Ended up paying $2800 for it (I know).
Fast forward...
LOTS of memories from my several attempts at college...
Memories...
Memories...
October 28, 2005:
I had noticed some funky noises coming from the engine and the ENGINE light had been intermittently turning on. I was lucky when I pushed enough oil pressure to get the light to go off. So, I parked it that night and started tearing down and researching and second-guessing the HO swap and third-guessing the HO swap then found myself so engorged in the fucking HO swap I wanted to choke myself in a puddle of stomach acid.
Fast forward...
I think I knocked out the last big issue with the HO/T5 swap tonight, which marks almost-streetability. I need to turn the upper radiator hose around (don't ask) and adjust the clutch out more and it should be good to go. So, here are some pictures. No fresh body pictures until I wash it and pick out all the leaves and crap.
You've most likely seen the body photos, but more will come ASAP.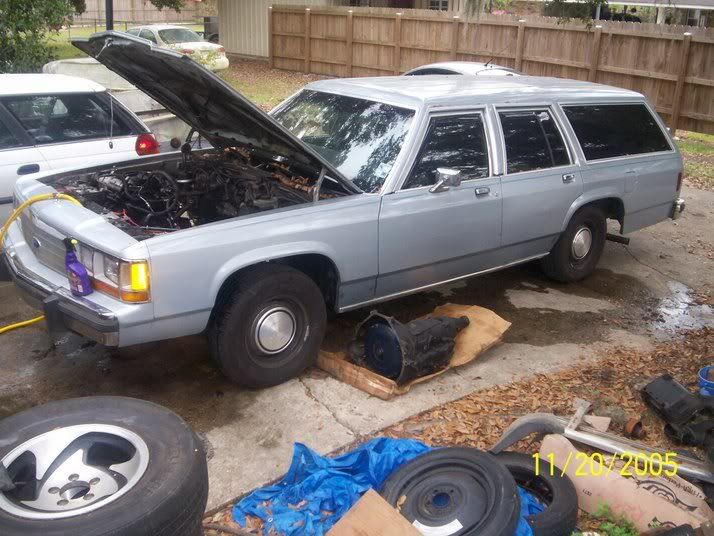 Ignore the WAI- I'm working on designing a true cold air kit (that will hopefully be available for purchase, depending on what my builder says).
That's it for now, kids. What do you think?