This is Sally, aka "Fat Sally". She's got a substantial posterior.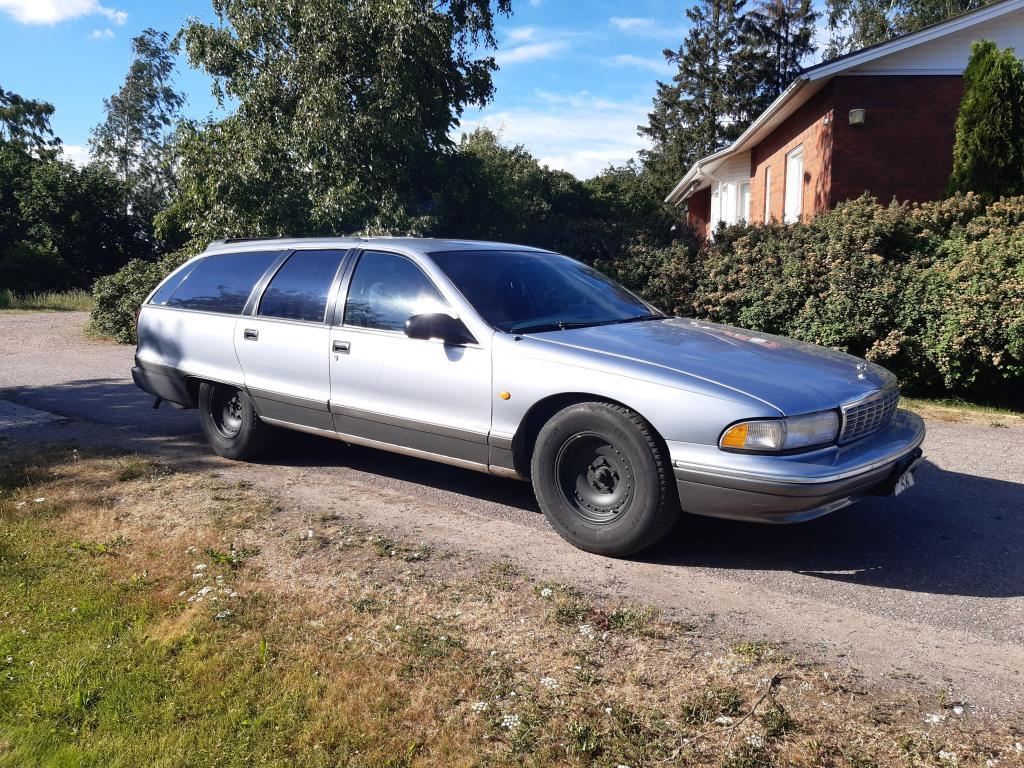 It's a 1995 Caprice Classic wagon, with the 5.7l LT1. Manual AC, cruise and power everything, no self-leveling, twilight sentinel or other too fancy stuff to break. What makes it kinda funny is the factory 2.56 rear ratio. It gets 25+ mpg all day.
She's been around the block a few times (346k KMs), a bit rough around the edges. Interior needs a proper cleaning, outside will stay as is.
It functions as is, but the 4L60e needs some attention and the AC leaks out in two weeks, plus a dozen small things to fix. Such as interior lights, third brake light, blinkers not canceling and all sorts of minor stuff.
Main party pooper is the trans, which has a couple problems, hard shifts and a slipping lockup converter... Just 4L60 things?
Obviously this is far from the correct place to post about GM problems, but I can't be arsed to join any specific GM forum for troubleshooting this stuff.
-Lockup converter slips slightly on hills, but not on flat-ish ground. This could either be a worn converter clutch, or the stuff that controls it (which seems to be pretty common). I'd want to try out one of these things before spending a lot more on a new converter:
https://www.rockauto.com/en/moreinfo...000853&jsn=565
-All upshifts are pretty hard and get harder depending on throttle position, on very low throttle the upshifts are tolerable. The shifts are just hard, not fast(er than stock), and feel kinda late, especially more throttle input. Someone has supposedly done something to the trans to "make it shift firmer for longevity", I have no clue what, programming, shift kit or some redneck engineering... I heard the TCC valve might cause hard shifts aswell.
This is my daily driver for now, but this is basically an experiment for me. "Is an american V8 boat fun/cool enough as a daily driver to offset the maintenance difficulty and increase in fuel consumption?" "Do you want to be depressed while driving or while refueling?" A compromise has to be made in "the fun-to-TCO axis". This leans heavily towards the fun factor side. I might own this for a year or maybe more, dunno yet at all. I was initially looking for an aero LTC, but those are scarce in the condition I'd want to buy one in. With the ever-rising fuel prices, this experiment might end short. Fuel consumption-wise I'm saving approx. 60+ euros a WEEK, driving this versus my MGM. And I'm still using about 25Ä per day in fuel.
EDIT: Dunno what happened with the large photos, if they're not visible for others. Attached small pics aswell.